16 Ocak 2015 Cuma Saat 13:12
Abdullah Ocalan: Hevalno! mîvanên me yên bi rûmet di destpêka tevgera netewe de mamosteyê ku karê mezin kirî Îbrahîm Ehmet û nivîskarê mezin Hawar'ê şoreşger di pêşberî we de silav dikim.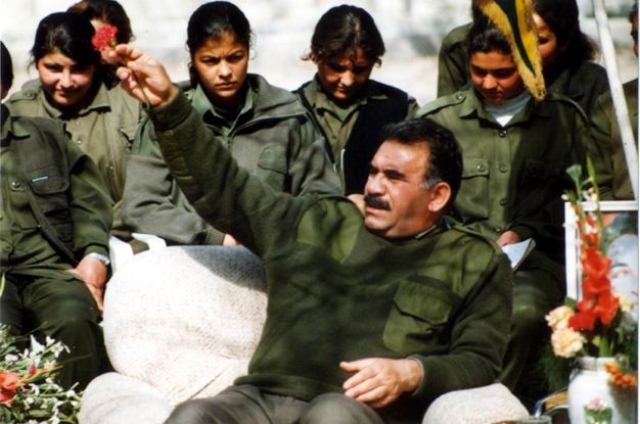 Di destpêka tevgera Kurd de têkoşîna PDK (Kürdistan Demokrat
Partisi)weke tevgereke netewe û modern, piştî şerê cîhanê yê II. Min, heta
beriya wê destpêkiribû. Balam ji ber gelek sedeman erka xwe ya mezin a destpêkê
bicî neanî. Kurdistan beriya şerê cîhanê yê II. Heta  piştî şerê cîhanê yê I. Ji ber sedema hinek
derfetan derbazî serdemeke din bû. Bi dawîbûna şerê cîhanê yê I.mîn re gelek
gelên bindest, bi Şoreşa Cotmehê re xwe gihandin derfetên xilasbûnê. Mirov
dikara vê bilêv bike:  Piştî bidawîbûna
Împaratoriya Osmaniyan û şûnde, beriya hemû gelan di bin serokatiya M. Kemal de
tevgera neteweya Tirk jî di wê demê de ji Şoreşa Cotmehê gelek sûd wergirt.
   Destpêkirina
tevgera Kurd a Koçgirî, beriya tevgera M. Kemal tê. Di Başûrê Kurdistanê de
jî  tevgera ku di pêşengatiya Mahmut
Berzencî de dimeşiya li hember emperyalîzma Îngilîzan destpêkir. Di vê demê de
hîn M. Kemal derneketibû holê û ev navend ji Kurdan re gelek derfet dida. Lê
piştî hilweşandina Împaratoriya Osmaniyan û şûnde Kurd ji holê rabûn. Dikare bê
gotin ku tenê Kurd di bin yek sêwana dernekê de xwe birêxistin dikirin. Navê wê
jî Cemiyeta Kurd Tealî bû. Ev, herî zêde cemiyeteke ku rewşenbîran dabû
avakirin bû. Lê ev di her warî de lewaz bûn, rêxistinbûnên wan lewaz bûn
bîrdoziya wan jî ne bîrdoziyeke li gorî demê bû. Ya din jî neteweyîtiya wan
gelek kêm bû. Li hember vê jî neteweyîtî û şovenizma kemalîzma Tirk jî gelek
bihêz bû. 
 Bi vê ve girêdayî
dema ku xwe dipesartin dewletekê, paşa û valî jî Tirk bûn. M. Kemal bi hinek
paşa û valiyan re kete nav têkiliyê, dema ku dest bi têkoşînê kirin Kurd nû nû
ser xwe ve dihatin. Cemiyeta Tealî ya Kurd jî dixwest xwe bigihîne Kurdistanê û
hinek gavan jî avêtin. Li Bakurî Kurdistanê beriya kemalîstan di pişt îsyanên
ku hatibûn destpêkirin de, li Dêrsim û hemû Bakurê Kurdistanê îsyan dikarîbû
bihêz bibe. Tevgera li Başûr a ku di bin pêşengatiya Mahmut Berzincî de
destpêkiribû, dikaribû li ser bingeha yekitiya Bakur-Başûr hemû Kurdistanê
bigirtibana. Li Rojavayê Kurdistanê jî tevgerek di bin serokatiya Îsmaîl Simko
de hatibû destpêkirin. Yanî di her sê parçeyan de jî tevgera Kurd derketibû
holê.     
Tevgerên ku di her sê parçeyan de destpêkiribûn Kurdistanî
bûn, neteweyî bûn bi qasî neteweyîbûn ew qas jî avakirina dewletekê hedef
digirtin. Lewra derketina kemalîzmê bû sedem ku fersenda ketibû destê Kurdan
hêdî hêdî ji holê rabe. Ya rastin, îdeolojiya kemalîzmê û rêxistinbûyîna wan ji
ya Kurdan bihêztir bû a din jî di siyasetê de bihêztirbûn. Kemalîstan
di1920'an de bi Franse re peymana Enqerê îmza kirin.  Bi vî rengî Başûr her tim ji kemalîstan re
vekirî hêlan.
Di heman çaxê de tevgereke Kurd li Dîlok û Rihayê hebû.  Lê ev tevger piştre ket bin kontrola
kemalîstan. Di sala 1921'an de bi Moskovayê re îtîfaq çêkir. Bi sûdgirtina vê
fersendê re, Qers û Erdexan bidest xist. Di wê demê de li Qers û Erzeromê jî
tevgereke şoreşgeran a bi navê Şura hebû. 
Bi vî rengî ev jî ket bin venêrana kemalîzmê.  Di heman çaxê de li Başûrê Kurdistanê tevgera
Kurd di bin serokatiya Mahmut Berzencî de li hember Îngilîzan bidestxistina
gelek pêşveçûnan karibûn xwe bikin dewlet.
Di vê demê de ji bo Îngilîzan pirsgirêka herî giring petrola
Îraqê bû. Li gel vê wî jî dixwest li hember Sovyetê Rojava di dest xwe de
bigire. Îngilîzan ji ber herdu sedeman têkiliyên xwe bi kemalîzmê re xurt kir.
Lewra di vê demê de Îngilîzan ji bo kemalîzmê bitirsînin bi tevgera Kurdan
leyîzst, dixwest bikişîne gel xwe. Kemalîst li hember Îngilîzan bi tehdîta ku
wê Şeyh Mahmut destek bikin tehdît kirin, Îngilîz jî li hember kemalîstan
xwestin tevgera Kurd a li Bakur weke koz bikarbînin, tevî ev daxwazên wan,
herdu alî jî tevgera Kurd destek nekirin pê leyîztin. Di herî dawî de
kemalîstan petrola Musul, Kerkûk ji Îngiltereyê re hêla û karin ji xwe dur
bidin hêlan.
Li beramberî vê Îngilîzan ji bo Kurd di bin serweriya
kemalîstan de bimînin pejirand. Li ser vê hevkirinê parçekirina Kurdistanê
temam kirin. Her wiha Îngilîzan hêdî hêdî kemalîstan xistin bin bandora xwe
kemalîst ji bo efendiyên Îngilîzan li hember Sovyetê ket nava tevgerê.  Piştî hingê peymanên hişkbûnê îfade dikin
Baxdat û hema duv re CENTO ava kir.  Ev
peyman di cewher de peymanên li hember yekîtiya Sovyetê û Kurdan hatibûn
avakirin. 
Di vê demê de hinek partiyên Kurdan hatin avakirin. Partiyên
Kurdan piştê 1920 û 1930 yanê beriya şerê cîhanê yê II.min çawa avabû û çima
rola xwe neleyîst in?  Ya herî giring jî
çima PDK di Cumhiriyeta Kurd a Muhabatê de rola xwe nelîst û di Başûrê
Kurdistanê de nebû dewlet? Di wê demê de îsyana Dêrsim û bi heman awayî çima
Bakurê Kurdistanê xeniqî? 
Di Bakurê Kurdistanê de îqtîdara faşîst a ku kemalîstan ava
kiribû Kurdan kiribû bin serweriya xwe. Li Rojavayê Kurdastanê û Başûrê
Kurdistanê jî tiştên bi heman awayî çêbûn. Siyaseta ku li van deran didan
meşandin, dişibiya siyaseta kemalîstan ya di navbera salên 1920-40 ya li Bakurê
Kurdistanê didan meşandin bû. Îranî jî li Rojhilatê Kurdistanê ji 1945 heya
roja me ya îro didin meşandin. Li Îraqê jî îqtîdara ku piştî Şoreşa Tirmehê ya
1958 ava bibû, heman wekî kemalîstan bû niha jî didome û weke kemalîstan hikûm
dikin.
Tabî li vir mijara herî giring Kurd- yanî PDK-Îran,Iraq û
Tirk jî çima rola xwe neliyîstin, serokatiya wê çibû? Ev mijarên giring
in.    
Di pişt şerê cihanê yê II.min re çima di tevgera netewa Kurd
de hinek cûdahî çêbûn? Ji ber di civaka Kurd de cûdabûn çêbibûn. Civaka kevin
civakîke feodal eşîrî bû. PDK li ser vê bingehê ava bibû. Dema ku civaka Kurd
ber bi nûbûnê ve guhertin çêkir çîna karker û kesima burjuwa ava bû. Di
siyasetê de jî guhertinên li gorî vê derket holê. Lê feodalîzim û eşîrtî jî hin
didoma. Li ser vê bi taybet tevgera klasîk a Kurd piştî 1960 bi awayî du
partiyan dest bi rêxistinkirinê kirin. Yek ji van neteweperestiya îlkel temsîl
dike û di bin serokatiya Barzanî de dihat meşandin. A din jî  nû, PDK ya modern bû. Serokê hêja Îbrahîm
Ehmet, ji bo serkeftinê bidest bixe piştî 1964 xwest xeteke bide avakirin. Dîsa
di 1975'an de YNK(Kürdistan Yurtseverler Birliği)ava bû. Di heman demê de PKK
ava bû, heya roja îro têkoşîn û şerê xwe dide meşandin.
 Niha tevgera Kurd a
netewe di merheleyeke nû de ye. Bi hilweşandina Sovyetê re dengeyên cîhan û
herêmê hate guhertin. Şerê Îran-Iraq ji bo Kurdan mercên objektîf  gihiştî kir. Ya herî girîng jî li Bakurê
Kurdistanê tevgera şoreşa PKK'ê pêşxist û pêşde bir, niha jî şereke pir mezin
dide meşandin. Şerê tevgera netewe û siyaseta wê gelek pêşde bir û pêşxist.
Dîsa Başûrê Kurdistanê di demeke giring de bû. Ji ber vê sedemê dikare bê gotin
ku mercên objektîf yên li Kurdistanê gelek gihiştî bû. Ji ber ku weke berê
peymanên Baxdat û CENTO yê nîne, ev belav bûn. Îro Îran û Tirkiye li dijberî
hev in. Tirkiye û Iraq li baremberî hev in. DYE weke berê Kurdan wekî
komînîstan nabîne. Ji ber Sovyet belav bû, leyîstokên dewletan yên  mezin ku li ser tevgera Kurdan dihat meşandin
niha nameşe. Ev hemû tiştên erênî ne.
 Di hûndir de jî
çetecîtî û fikrê wî, disa serokatiya wê paşde çû. Serokatiya Barzanî niha di
rewşeke gelek tangav de ye.  Li hember vê
di tevgera şoreşa netewe de, di riya zanebûn û yekîtiya netewê de gelek mezin
bû. Serokatiya kevin hema hema tine dibe. Li hember vê serokatiyeke modern, bi
derfeteke mezin ve xwe bi xwe ava dike û ev serokatiya modern di hemû parçeyan
de li ser bingeha yekîtiya netewe kete rewşa daxwaziyeke mezin. Her kes dixwaze
bi vê serokatiyê re gavan bavêje. Ji bo xilasiya netewe bi tezbîtkirina
stratejiyek xurt re dikare ev bide meşandin. Stratejî heye, tevger heye, her ku
diçe yekîtiya tevgera Kurdan mezin dibe. Kurd dikarin di hinek perçeyan de
bigihin federesyonan, ev guncav e. Emadekariyên me heye, şerê me jî didome. Ji
bo federasyonên netewe, li Bakur, Başûr û Rojava rola xwe bileyîzin.
Ji ber vê lazima teng neyê fikirandin. Divê pir kêfî û kesî
jî neyê destgirtin û fikirandin. Di rojên ku mezin tê fikirandin de hewceye ku
di riya siyasî û yekîtiyê de erk bên leyîstin. Em heya dawî emade ne. Birêz
Îbrahîm Ehmet û Mamoste Hawar, bi kinahî ev mijarên ku min destnîşan kiriye,
têkoşînê bi aliyên wê yên siyasî ve bi awayeke fireh û kur dikarin vekin. Bawer
dikim ku tenê ne ji bo şagirtên Akademiya Mahsum Korkmaz, ev axiftin ji bo hemû
dibistanên Kurdan, şoreşgeran û tevgerên şoreşger yên netewe wê riyeke baş û
vekirî bide nîşan. Di warê dîroka Kurd de, lazima ceribandinên piştê şerê
cîhanê yê I.min baş bidin dest û vekin, ev wê ji bo têkoşîn û roja me ya îro
bibe çavkaniyeke hêzê. Em dikarin di derbarê hev de jî ji hev re pirsan
pêşbixin. Bi vî rengî em ê dîrokê bidin dest û di roja îro de siyaseta rast,
siyaseta netewe ronî bikin. Dîsa bi giringî em ê li ser siyaseta Kurd û divê
îqtîdara wê çawa be bisekinin.
Belê Mamoste, hûn dikarin dîrokê bi kinahî bidin dest. Piştî
şerê cîhanê yê I.min şansê Kurdan çibû û bêşansiya wan a di dîrokê de çawa
çêbû? Ji bo destpêkê vekirina van xalan wê di cî de be. Yanî fersendên ku piştî
şerê cîhanê yê I.min û şûnde ketibûn destê Kurdan çawa çêbû û çima ji wan sûd
wernegirtin? Sedemên vê yên hundir û derve çibûn? Herî zêde jî kaptalîzim çawa
ava bû, çawa qetlîaman çêkir? Tevgerên Kurdan yên li Bakurê Kurdistanê û
parçeyên din çawa perciqandin? Em çawa gihiştin şerê cîhanê yê II.min? Her wiha
we di wê demê de çi kir, mêzandina we çibû, çima bi ser neketin? Piştî şerê
cîhanê yê II.min avabûna PDK'ê heye. Ev çawa hat avakirin? Hûn dikarin van
mijaran vekin.
İbrahim Ahmet: Weke hûn jî dizanin tevhera Kurd, di roja me
ya îro de di pêvajoyeke giring re derbas dibe. Ji bo ku nekeve nav kêmahiyên
berê di vê ji tevgerên Kurdan yên berê bê destpêkirin. Derketina tevgera
Îttihat û Terakkî, bû sedema pêşveçûna hişmendiya netewan a di nava
Împaratoriya Osmaniyan de.  Di destpêkê
de Kurd, Erep û netewên di nava împaratoriyan de civatên xwe ava kirin. 
Encamên ku em ji rêgezên van civatan derxinin ev e:  Ev civat di destpêkê de nedixwestin ji
Împaratoriya Osmaniyan qut bibin. Ji dêla vê, slogana Îttihat û Terakki rêgeza
yekitî, wekhevî û azadî armanc kiribûn. Lê Îttihat û Terakki, ji bo netewên ku
di nava Împaratoriya Osmaniyan de di nava xwe de bihelînin dikişandin. Ji ber
vê bername, rêgez û têkoşîna wan hate guhertin. Di dema şerê cîhanê yê I.min
destpêkirî de tevgerên netewe yên di nava Împaratoriya Osmaniyan de cî digirtin
di destpêka avakirina saziyên xwe de bûn. Ez wer bawer dikim ku tevgera Kurd di
nava tevgerên din de, di warê netewe de ya herî lewaz bû. Lê di şerê cîhanê yê
I.min de Kurdan ji Tirkan bêtir xaka Împaratoriya Osmaniyan parastine. 
Em dizanin ku piştî şerê cîhanê yê I.min Almanya û
Împaratoriya Osmaniyan di şer de windakirin, mûttefîkên wan jî bûn galîbê şer.
Yanî di vî şerî de Îngilîz û  Fransa bûn
galîbê şer. Lewra hinek armancên Îngiliz, Fransa û Rusan ya li ser Rojhilata
Navîn û herêma Rojhilat mijara gotinê bû. Beriya şerê cîhanê yê I.min ev her sê
welat di nava xwe de peymana Sykes-Picot kiribûn. Li gorî vê peymanê xaka
Împaratoriya Osmaniyan ya ku weke zilamê nexweş bi nav dikirin di nava xwe de
parve kiribûn. Dîsa li gorî vê peymanê Kurdistanê jî parçe kirin, beşa ku weke
vilayeta Musul tê zanin biryara bidin Fransa dabûn. Di vê navberê de hinek
feodalên Kurdan, hilweşîna Împaratoriya Osmaniyan di warê netewe de xwestin
bikar bînin.
 Di vê demê de yê ku
serokatiya tevgera Kurdan dikir Şerîf Paşa,yê ku sefareta(büyükelçi)
Împaratoriya Osmaniyan ya Îsveçê bû. 
Şerîf Paşa, bi mûttefikên ku di şer de serkeftî derketine, da ber cavan
ku zêdetirîn tevgera netewe ya Ermeniyan destek bike, ji ber ku Ermenî
Hiristiyan bûn-bi Ermeniyan re ket nava alîkarî û piştgiriyê. Şerîf Paşa bi
serokê Ermeniyan re têkiliyên xwe pêş xist, mafê ewleyiya netewa Kurd û
Ermeniyan ji mutefîkan xwest. Di peymana Sevrê de hinek mafê herdu netewan anî
ziman. Li gorî vê peymanê ji Kurdan re hinek mafê nispî hate nasîn. Bendên
peymana Sevrê ya 3.şiqê 62-63-64an bi pirsgirêkên Kurdan re têkildar e. Li gorî
avabûna dewleteke Kurdan li Başûrê Kurdistanê hate pejirandin. Lê dewleta Kurd
a ku bihatibana avakirin, dihat dîtin ku wê demek di bin himayeya mûtefîkan de
bûna. Mûtefîkan diyar dikirin ku dema Kurd hatin qonaxa ku xwe bi xwe rêve bibin
û şûnde, wê xweserbûna wan bidinê. Lê di nava vilayeta Musilê de, beşa ku bi
Fransayê ve girêdayî ne xweserbûn otonomî dayînê li pêş dîtin. Kurdên ku di
nava vê xweserbûnê de jiyan dikirin, dema ku rêveberina xwe bi xwe serxistin,
wê bi Kurdistana xweser a ku li Bakur ava bibe re bibe yek.  
Xalek din jî ev e: Dema ku li dîrokê tê nêrîn, tevgerên
Kurdan ji derveyî xaka Kurdistanê, li Ewrupa ava bûne têne dîtin. Ji ber ku
Kurdên ku di nava Împaratoriya Osmaniyan de jiyan dikirin, têkilî û girêdana
wan dewam dikir. Kurdan gumana wê weke Împaratoriya Osmaniyan a kevin ku hatiye
parçekirine lêbên radikirin. Ji ber ku tevgera Kurdan eşîrî  û feodal bû, eşîran piştî hilweşandina
halîfeya îslamê û şûnde, tevgera Kurd a netewe pêwîst neditin, ger bibe jî ev
tevger ne ji bo Kurdan, pêwîstiya ji bo Împaratoriya Osmaniyan ditin bawer
dikirin. Yêku vê baş dinasî M. Kemal, bi awayeke zanebûn vê xalê bi hustatî
îstismar kir û jê fêde kir.  Di paşnê
(akabinde) M. Kemal de  derbasî
Kurdistanê dibe, bi şîara "bi navê Tirkan avabûna îslamê dana pêş, li gelek
cihan gerya û civînan çêkir, di yekkirina şêx, reîsên eşîretên Kurdan û yên li
pêştên de ser ket. Xwe sipart vê hêzê û bi armanca ku him mutefîkan û him jî
yên ku avabûneke dewleta Kurdan dixwazin bê bandor bike ji Kurdan hêzek ava kir
ji bo armanc û serokatiya xwe da şerkirin.
M. Kemal tenê Kurdan bi wan re dana şerkirin nema, di heman
demê de di nava nakokiya di navbera Tirk-Yunanan de jî da bikaranîn. Di vê demê
de Yunanan dixwestin, Îzmîr û hevirdora vê bidest bixin û tevlî Yunanistan
bikin.  M. Kemal li hember wan, Kurdan da
şerkirin. Tabî li hember vê M.Kemal hinek mafê ku sedî sed têde ne zelal bû, bi
awayeke federesyoneke xumam, bi awayeke ne zelal îfade kiribû. Kurd, di bin
serokatiya M.Kemal de gelek li ber xwe dan û pir xwîn rijandin. Ev ew qas
gihişt astên bilin ku dema bîrdariya(anıtı) leşker a nenas(meçhul) çêdikin,
gotineke M. Kemal a bi nav û deng heye: Dibêje, " îhtîmaleke mezin leşkerê
bîrdariya nenas Kurd e.   Her çendî raste
rast ne gotineke ku M.Kemal bixwe bilêv kiribe jî, lê yê bi navê M.Kemal hatî
Sakarya ev gotin kiriye. Ev rewş li gel tinekirina tevgera me ya netewe,
nepêkanîna peymana Sevrê jî winda kir û ev jî bû sedem ku baweriya xwe jî winda
bike. Yanî pêkanîna peymana Sevrê kêm jî be, ji bo piştgirîkirin daxwazî hebû,
ev firsend jî hat windakirin. Ev rewş ji bo Tirkan bû alîkar, loma ev bû sedem
ku di şerên ti berjewendiyên Kurdan tê de nîne kişandin navê. Wekî îro tevî ku
şerê tê kirin ne li gor berjewendiyê Kurdana jî xistin nav şerê ji bo Tirkan tê
kirin.    
Di mercên wan rojan de hêviyên me yên ku me winda kirin çi
bû? Îngilîzan bi leztikên ku zanabûn lîztin re dikarîn Fransayê îqna
bikin.  Hataya ku bi Surî ve girêdayî, li
berimberî Îskenderun û hawirdora wê ji Fransa re berdan,bi berdana Musul
dikarin serbikevin. Bi vê ve girêdayî, di parçeyên Kurdistanê yên din de,
daxwazeke ya Kurdan ku Îngilîz dewleteke Kurdan a serbixwe ava bikin nînbû.
Piştî şerê cîhanê heya dema rawestandina şerê Madrid, Îngilîzan gelek deverên
Kurdistanê xistibûn bin venêrîna xwe. Îngilîzan, piştî ku bi Şeyh Mahmut
Berzencî re hinek lihevkirin kirin û şûnde karîn bikevin Sûlêymaniyê. Piştre
tevî ku ne mafê wan jî bû, Başûrê Kurdistanê beşên  eyaleta Musulê yên din dagir kirin. Di encama
vê de di navbera Tirk û Îngilîzan de gelemşe destpêkir. Tirkan, ji Îngilîzan re
digot: " piştî şerê cîhanê yê I.min û şûnde xaka ku we bidest nexistiye, piştî
şer bidestxistina vê mafê we nîne.    
Îngilîzan, ji ber zêdebûna van nekokiyan, zanebûna netewe ya
di nav Kurdan de îstismar kir, xwestin li hember Tirkan bixin nava
tevgerê.  Şeyh Mahmudê welatparêz jî,
dixwest parçeyê Kurdistanê yê ku ji Osmaniyan ve maye dewleteke serbixwe ya
Kurdan bide avakirin. Ev dewlata Kurd a ku bê avakirin jî, nedixwest di bin
venêrîna Îngilîzan de be. Di vê mijarê de di navbera Şeyh Mahmut û Îngilîzan de
nakokî derketin, ev bû sedem di navbera hêzên Şeyh Mahmut û Îngilîzan de şer
derbikeve. Di nava şerê ku derketî de bîzat Şeyh Mahmut hebû, di encama
birîndariya wî de dil ket destê Îngilîzan. Piştre di dadgeheke leşkerî ya ku li
Bexdatê çêbûyî de cezayê îdamê danê. Lewra ev ceza veguhertin cezayê
bêdawî.  Dure wî bi hînek heval û malbata
wî re mişextiyê(sürgün)Hindistanê kirin.
Piştî vê mişextînûyînê û şûnde jî, li Başurê Kurdistanê
daxwaza hinekan a hişmendiya netewe domand. Ev jî berdewankirina nakokiyan dida
diyarkirin û Îngilîzan jî nakokiya Kurdan a heyî çareser nedikir. Her çendî bi
hinek rêbazan re xwestin çareser bikin jî ser neketin. Ji ber vê sedemê Şeyh
Mehmut cardin anîn Bexdatê û weke hikumdarê Kurdistanê qebûl kirin. Lê şerteke
wan hebû: Xwestin Şeyh Mehmut musteşarê Îngilîzan qebûl bike. Şeyh Mehmut jî,
di destpêkê de ev daxwaza Îngilîzan qebûl nekir. Vegeriya Sûleymaniyê
hikumeteke ava kir. Xwe weke kral îlan kir û licneya xwe ya wezîran ava kir.
Piştre bi saziyên hikumetê yên cur be cur re al derxis û artêşa xwe ava kir
postexane ava kir û pûl derxist. Bi vî rengî dewleteke Kurdan avakir.
 Dewleta Kurd ya ku
hatî avakirin, xwezayî ket rewşeke li hember daxwaza Îngilîzan a avakirina dewleta
Ereban û bercewendiyên wan.  Li ser vê
Îngilîz, li hember Kurdan wehşiyeteke mezin dan destpêkirin, bi hemû şekan ve
hêrîşê Kurdistanê kirin. Dikarim bêjîm ku Sûleymaniye bû şûna ceribandina cekên
Îngilîzan yên nû. Bi vî rengî Îngilîz du caran ketin Sûleymaniyê. Artêşa Ereban
jî cara yekem di sala 1924'an de ket Sûleymaniyê. Ev ketin bi alîkariya çek û
leşkerên şêwirmendên Îngilîzan ve çêbû. Îngilîzan ev dagirkirin erê kirin.
Li ser vê, nakokiyê Tirk û Îngiltere yên li ser eyaleta
Musilê zêdetir bû. Ji ber sedema van nekokiyan Îngilîzan nedixwest Kurd di
carekê de bên perciqandin. Ji ber qarta Kurdan ji hêla wan ve li hember Tirkan
bikaranîn mijara gotinê bû.  Dema Şeyh
Mehmut hikumdariya xwe li Kurdistanê didomand, di belavoka hevbeş ya
Îngilîz-Iraqê de ya di 24 Mijdara 1922'an de hat diyarkirin ku ew dewleta
Kurdan dinasin, lê pêwîste heyeteke Kurdan ji bo têkiliyên aborî, tîcarî û
diyarkirina sînor bi Îngilîz û Iraqê re bên gel hev daxwaz dikirin. Rastî jî ev
bû dixwestin bi siyaseta di vê belavokê de Tirkan bitirsînin. Armanca wan bi
vê siyasetê ve Tirkan ji vilayeta Musil dana dûrxistin bû. Tişta ku ket pratîkê
jî ev bû. Siyaseta Tirkan tevlîhev bû. Bi mecbûrî, ji NY (Neteweyên Yekbûyî)
heyetek xwestin, daxwaz kirin ku heyet vê derê venêrîn bike.
Tirk bi Îngilîzan re lihevkir û ev hişt ji hêla NY rastiya
heyî bê lîkolînkirin. Heta di belgenameyên NYê, rapora ku dane de, hat nivîsîn
ku Kurdên li Başurê Kurdistanê nexwazin bi Tirk û Iraqê re bijîn, dixwazin
serbixwa jiyan bikin hatibû belgekirin. Lê dewletên hingê di bin bandora
Îngilîzan de bû. Çawa ku di roja me ya îro de DYE li ser NY serwer e, wê demê
jî serwerî ya Îngilîzan bû. Ji ber vê sedemê, piştre di 25 Mijdara 1925'an de
ji hêla civata dewletên cîhanê ve hat gotin ku Kurd di nava dewleta Iraqê de li
ser bingeha hinek şertan, yanî ziman, çand û jiyana xwe biparazin, lê wê weke
dewleteke serbixwe nemînin xistin bin biryarê. 

Heman rojê bi mûnasebeta vê biryarê di civîna şahiyê ya
Îngilîz-Iraqê de berpirsyarê heyeta Îngilîzan vê got: "Weke ku Tirk dixwazin
Kurdan bikin Tirk, divê hûn Kurd nekin Ereb. Kurd wê li hember zordariya Tirkan
ranagirin bibin Tirk, lê wêTirk jî nebin Ewrupî. Yanî weke ku dê bi ti awayî
Kurd nebin Tirk, wê Tirk jî bi ti awayî nebin Ewrupî. Qiralê Iraqê Feysal, ev
nerîna Ingilîzan di cî de dît, her tim got bila Ereb Kurdan weke Kurdan
bibînin, Kurd jî bila bi kurdîniya xwe ve girêdayî bin, divê weke Kurdê heqîqî
û resen bimînin da diyarkirin. Lê tişta ku em dizanin di vê riyê de Iraqeke
yekgirtî û serbixwe ye. Me fêm kir ku ev rêgez çawa ketin jiyanê. Di vê demê de
tevgera Şeyh Mehmut jî binket û xilas bû.
 Xalek din jî, di
madeyeke Peymana Lozanê de madeyeke ser rêveberiya Musilê bû. Weke ku rastiya
dîrokê jî dibêje, di navbera Tirkan û Ingilîzan de lihevhatinek hebû. Li hember
destjêneberdana dostaniya Tirkan a bi Rusan re, Ingilîz jî ji bo destê xwe ji
alîkarîdayîna tevgera Kurd a netewe bikişînin lihev kiribûn. Kurdan fêmkirin ku
hatine xapandin. Kurdan him li Bakur û him jî li Başurî Kurdistanê dest bi
têkoşîna xwe kirin. Di van têkoşînan de her çendî hinek rewşenbîr cihê xwe tê
de girtibin jî, pêşengên wan herî zêde Şex, mele û axa bûn. Yek ji van tevgeran
jî tevgera Pîranî ya Şeyh Saît bû. Him vekirî hin jî di mercên modern yên roja
me ya îro de, ji bo serkeftina armanca me, ez îtîraf dikim ku tiliya Îngilîzan
di tevgera Şeyh Seît de hebû. Lê ev piştgirî, ji tevgerê gihandina serkeftinê
zêdetir, ji bo windakirinê bû. Tevger destpêkê bê agahiya Ingilîzan, bêyî ku
destur ji wan bigirin destpêkir û bihêz bibû. Piştre Ingilîzan destlêwerdan
kirin li wan dan windakirin.   
 Tenê ne di vê de,
tiliya Ingilîzan di binkeftina hemû tevgerên ku li Kurdistanê rabûne û
binkeftine de heye. Mixabin, di dawiya vê demê de, gelê Kurd ti maf û hêvî
bidest nexist. Tevgera Kurd bi pergaleke din re dest bi têkoşînê kir. Ji hêla
hinek rewşenbîran ve hinek partî hatin avakirin. Mixabin partiyên ku hatin
avakirin, li hember rewşanbîran ji derve de bi hinek alîkarî û daxwazan ve
partiyên ku hatibûn avakirin bûn. Bi taybet divê qala alîkarî û daxwazên
Ingilîzan yên di vir de bêne kirin. Ji ber Ingilîz, muhtemelê ku tevgereke netewe
ya Ereban li hember wan pêşbikeve dikirin, loma li Iraqê pêwîstî bikaranîna
qarta Kurdan di destê xwe de bigire didît.
 Di vê navberê de şerê
cîhanê yê II.min destpêkir.  Di vê demê
de tevgera Kurd lewaz bû. Lê ketina Sovyetê ya vî şerî, bû sedema guhertina
hinek rewşan. Taybet bi ketina Îranê û xistina bin venêrîna xwe re yek Rus, bi
ketina Ingilîzan a parçeyên din yên Kurdistanê re, carek din rê li ber
bihêzbûna tevgera Kurd vekir. Ev dewlet ji ber bercewendiyên xwe hewl didin ku
di herêmê de Kurdan îstismar bikin. Heta di wê demê de Alman jî xwe bi
sipartina hinek Kurdan re xwestin wan bênin rewşa kirina mutefîkên xwe.  
Li Iraqê çil partî hebû. Gelek ji van partiyên Kurdan bû û
yek ji van partiyan jî partiya Hîva bû. Di nava van partiyan de her çendî welatparêz
hebin jî, li gorî nerîna min serokatiya van bi Ingilîzan ve girêdayî bû. Ev
serokatî bû sedemê parçekirina partiya Hîva. Di vê navberê de bi alîkarî û
teşvîqa hinek elemanên di nava partiya Hîva de, li Îranê komaleyetek hat
avakirin. Elemanên ku alîkarî didin vê komaleyê, ne girêdayî serokatiya ku bi
Ingilîzan ve girêdayî bû. Van li Îranê komaleya ku ji nû de Kurdistanê bidin
jiyîn dan avakirin.
 Di vê demê de ez
hekimê Helepçeyê bûm û min rojnameya bi navê Gelewêj derdixist. Ji ber hinek
sedeman ez ji erka dadgeriyê veqetam. Heya wê demê ez ne endamê ti partiyan
bûm. Her çendî xwestin jî ez neketim nav partiya Hîva. Ez bi hinek kesên ku
dixwestin bikevin partiya Hîva di heman malê de dimam. Wan xwestin ez jî
bikevim nav partiya Hîva. Em derbasî qurfeyek bûn. Li wir li ser masê
tebanceyek û yek jî Kuran-i Kerim hebû. 
Li jora me jî navê serokê partiya Hîva hebû. Li wir tişta ji min dihat
xwestin ku bikim, li wêneyê mêze bikim destê xwe deynim ser Quran û tebanceyê
sond bixim bû. "Sonda wan ez li Kurdan xiyanet nakim bû. Min da diyarkir ku ev
sond ji bo Kurdan tohmet e, divê sonda we ne bi çek ne jî bi Quranê re be ya
divê hebe, sonda ku ji gel re bê dayîn e min got ger hûn cihê xwe bivî rengî
diyar bikin, ez ê heya dilopa xwîna xwe ya dawî ji gelê xwe re xismet bikim.
 Piştî ku min erka xwe
ya dadgeriyê berda, di nav de tevî Partiya Komînîst gelek partî ji min re
pêşniyara bûna endamtiyê kirin. Heta di Komeleya jiyandina Kurdan a li Îranê
hatî avakirin de, hinek hatin ji min re gotin ku dixwazin komîteyeke nû yê vê
bidin avakirin. Ev di 1944'an de bi riya postê bi min re danûstandin dan
çêkirin. Min bernama wan xwend. Dema min herdu rêzên destpêkê yê bernameyê
xwend, ez fikirim ku ev komele ne komeleya Îran,ne ya Iraq û ne jî ya Tirkiye
ye ev komale tenê komaleya Kurdistanê ye. Ev komale dixwaze di hemû parçeyên
Kurdistanê de şûbe an jî komîteyên xwe ava bike. Min jî endamtiya wê qebûl kir.
Dixwazim vê mijarê bihêlim û bêm ser meseleya Barzanî.
   Tevgera Barzanî, di
1944-45 yanî di destpêkê de ne tevgereke welatparêz, tevgereke eşîrî bû. Di
nava Hîva de kesên baş hebû: Yên weke Emin Revanduzi, Îzzet Abduleziz,
Xeyrullah û hwd. hebûn. Dixwestin vê tevgerê ji tevgereke eşîrî derbixin, bînin
rewşa tevgereke welatparêz û neteweyî. Lê ev tevger belav bû. Ji ber ku aliyê
wê yê eşîrî ji yê din bihêztir bû. Ji ber vê Mele Mustafa neçar ma ku bi
zilamên xwe ve derbasî Îranê bibe. Dema ku Melle Mustefa di kêliya ku sînor
derbas dike hinek ramanên wî hebû. Partiyeke bi navê PDK û avabûna komara Kurd
hêvî dikir. Piştî çend meh din şûnde, Kurdên ku me qal kiribû yanî navê
Komeleya Ji nû de Jiyandinê guhert kir PDK'e. Tevî ku di Başurî Kurdistanê de
ez berpirsyarê wê Komeleyê yê yekem jî bûm, min nezanî ku guhertina ev nav çewa
çêbû. Piştî demeke û şûnde, ev komeleya ku ji kesên baş û welatparêz yên bi
rêgezên xwe ve girêdayî pêk dihat bû sedema bidawîbûna tevgereke Kurd.
Tê zanîn ku Qazî Muhemmet, her çend ji ber hinek sedemên xwe
yên kesî jî be, Mele Mustafa bi mîsoger bi sîxûrtiya Îngilîzan ve sûçdar dikir.
Hêzên Barzanî, li du gundên dora sînor bi avayeke tengav kom bibûn. Mercên wan
yên jiyanê heya bêjî zehmet bû. Nexweşiyeke jêvegir(bulaşıcı) wan girtibû, heta
hinek ji wan mirin. Mele Mustafa ji vir bi riya kesek ji min re nameyek rêkir
Sûleymaniyê. Di nameyê de mercên herdu gundan îzah kiribû û ji min daxwaza li
Sûleymaniyê alîkarî komkirin û ji wan re şandin kiribû. Li ser vê me ji
Sûleymaniyê li herêma komîteya me du caran alîkarî kom kir û şand. Carek jî
subayê Kurd Nurî Ahmet Taha yê ku tê nasîn û sala 1945 keseke bi navê Hamza
Abdullah şand Sûleymaniyê.
    Hamza Abdullah
şoreşgereke Kurd û çepgir bû. Li hember zordestiya hikumeta Iraqê dûçar(maruz)
mabû.   Nasnameya Iraqê jê distînin wî
mişextî Tirkiyê kiribûn. Piştre çûbû Îranê. Mele Mustafa bi riya wî nameya
duwemin şand. Wekî din jî di nav nameya ku ji min re şandî de nameyeke bi navê
kurê Şeyh Mahmut Berzencî ku divê bidimê hebû û name vekirîbû. Min nameyê
xwend. Di nameyê de ji bo ku Barzanî vegere gund û qada xwe, dixwest kurê Şeyh
Mahmut biçe bi Qral Faysal re nevbertî bike. Ji ber li ser sedûyanzdeh kesên
Barzaniyan biryara dardekirinê hebû. Dixwest ev dardekirin bê zivik-kirin û
veguheze girtina bêdawî. Li hember kirina vê, dida diyarkirin ku Barzanî
amadeye vegere Iraqê. Daxwaza wî ev bû.
  Li ser vê komîteya
me di asta jor de civînek çêkir. Hikumeta Îranê beriya niha reîsên eşîretan li
hember Qazî Muhemmet derxistin- ev bi peran hatibûn kirin- me aliyê wan yê bi
Îranê re dît. Ger Mele Mustafa jî vegere Iraqê, wê êdî kes nikaribe Komara
Mahabatê biparêze. Ji ber vê sedemê nameya ku Barzanî şandibû me neda kurê Şeyh
Mahmut. Me got bila li Îranê bimîne Komara Muhabatê biparêze. Ji derveyî vê jî
mixabin hinek kesan li ser navê reyîsên eşîretan belgeyek amade kir û kurê Şeyh
Mahmut yê duwemin Şeyh Latîf jî di nav de, me hemûyan îmze kir û vegerand
belavokeke. Di belavokê de hat nivîsîn ku divê Mele Mustafa û yên li gel wî ji
hêla hikumeta Iraqê ve bên efûkirin vegerin şûna xwe û me got em wî weke nûnerê
Kurdan dibînin dabû diyarkirin. Di aliyê din de jî rewşa Qazî Muhemet ya lewaz,
rê li ber kar û rewşa heyî ser û binê hev bibe kir û hêla gelek tahrîbat
derkeve holê.  Di nameya duwemin ku
Barzanî şandî de, digot pêwîste ez alîkarî bidim Hamza Abdullah, ji ber dixwaze
partiyeke weke PDK ya li Îranê li Iraqê jî bide avakirin diyar dikir. I- min ev
partiya bi navê PDK red kir.
   Ji ber PDK ya
Barzanî ne Kurdistanî bû.
– PDK, berê li Îranê ava bû? Civîna xwe ya yekem çawa çêkir?
Armanca wî ya demdirêj û dem kurt çibû? Bernama wê hebû nebû. Ev partî li kur
hat avakirin, armanca wê çibû? Ji Kurdên li Bakurê Kurdistanê kes hebû? Piştre
çima li Bakur PDK hat avakirin, çibû, hûn bi çi re rû bi rû hatin ku ev hate
avakirin? Ev yek kes ava kir? Yan jî civînek çêbû? Dema ku ev partî hat
avakirin bandora derdor çibû? Daxwaza we çi bû? Hûn çawa gihiştin vê fikrê, di
avakirina vê de bandora mercên abjektîf çibû?
– Di nameya ku Barzanî ji min re şandî de,dixwest ez
alîkariya Hamza Abdullah bikim. Dîsa di nameyê de hinek nav diyarkiribû û
dixwest ev nav di nav partiya ku bê avakirin de cihê xwe bigirin. Min dît ku ev
partî ne partiyeke Kurdistanê ye. Yanî partî partiyeke Iraqê bû, ji ber vê min
nexwest di vê partiyê de cihê xwe bigirim.
Mele Mustafa dixwest bibe serokê vê partiyê. Kurê Şeyh
Mahmut Şeyh Latif û Gege Ziyatê Koysancak yek ji eşîretên Kurdan yên li pêş
dihat- dixwestin alîkarên wan çêbibe û komîteyeke merkezê bê avakirin. Lê ev
partî ti armanc, bername û rêgezên ku di oxira wê de têkoşîn bikin nînbû. Lê bi
hinek gotinên xweşik ku bilêv dikirin re, digotin ev partî ji ber berjewendiyên
gelê Kurd hatiye avakirin. Di wê demê de partiyên weke partiya Şoreş û Rizgarî
hebû. Ev hemû gotin ku em dixwezin di vê partiyê de cî bigirin. Lê hinek kesên
awarte yên Kurd, gotin ev partî partiyeke eşîriye û dan diyarkirin ku di nav vê
partiyê de cihê xwe nagirin.  Partî bi vî
rengî di 11 Tebaxa 1946'an de li Iraqê hat avakirin.  
– Ma Komara Mahabad a Kurd rûxîya bû?
– Na, hîn nerûxîya bû.
– Ma avakirina partîyek wiha baweriya xwe ya bingehîn ji
Komara Mahabad digirt?
– Mele Mustafa, weke Qazi Muhammet li Mahabadê ji avakirina
PDK'ê best digre (esinlenerek), dixwaze partiyeke wiha ava bike û weke Qazi
Muhammet bibe serokê partiyê.
– Mirov dixwaze fêm bike ku partî çawa ava bûye.
– Ez di Kongreya 1. de amadebûm. Berfirehiya wê vebikim.
– Ma tu endam bûyî?
– Ez ne endam bûm, lê amadebûm. Ji min xwestin bibim endam.
Lê min diyar kir ku heta ji komîteya navendî ya partiya me biryarek neyê, nebim
endam, em ê komîteya xwe ya li Sileymaniyê fes nekin û di partiyeke din de
nebim endam.                                         
– Yanî him li Iraqê PDK heye û him jî bi vê ve girêdayî
komîteya (Laq) a ku hûn jî di nav de cih digrin heye. Di navbera komîteya wê û
PDK-I de cudahiyek çawa hebû?
– Cudahiya me, partiya me partiyeke ku tevahiya Kurdistanê
digirt nava xwe bû. Li perçeyên Sûrî û Tirkiyê jî me dixwest komîteyên giredayî
vê bêne avakirin. PDK a Barzanî jî partiyek ji bo Iraqê bû. Yanî tevahiya
Kurdistanê ne digirt nava xwe. Ev cudahiya bingehîn a di navbera me de bû.
PDK'a Barzanî bi Partiya Komînîst a Iraqê re kete nav peywendiyê, di dema Qiral
Faysal de bi hev re hin xebatên weke meş û mîtîng jî dane meşandin. Di vê demê
de ji komînîstan hin girtin çêbûn. Li ser bingehê mikurhatina van ji tevahî
partiyan girtin çêbûn.
Piştî hilweşîna Komara Mahabadê, komîteya ku me li Başûr
avakir li holê ma. Me di civîna ku çêkir de diyar kir ku li pêşiya me du
vebijêrk (seçenek) hene.  Em ê ya tevlî
komînîstan yan jî tevlî PDK'a Iraqê bibana. Di encam de piranî di hêla
beşdarbûna PDK'ê de nêrîn dan. Li ser vî bingehî di Nîsan û Gulana 1947'an de
em tevlî PDK'ê bûn. Di mikurhatina komînîstan de yekî ku navê wî derbas dibû jî
ez bûm û hatim girtin.
– Ji tevlîbûna PDK'ê zêdetir çima we komîta xwe  pêşnexist û xurtir nekir.
– Piştî hilweşîna Komara Mahabat a Kurd, ti firsend û
derfeta me nemabû. Em neçar man û tevlî PDK'ê bûn.
– Ma piştî hilweşîna Komara Mahabad a Kurd li İranê hebûna
PDK'ê domiya?
– Na, hebûna wê nema, paşê cardin hate avakirin. Sedema
hilweşîna Komara Mahabadê, ne tenê paşvekişîna Rûsan û dest ji me berdana wan
bû. Sedema bingehîn çavkaniya xwe ji hûndir digirt. Ji ber ku tevgera heyî di
bingehîn de ne tevgereke rizgariya netewî bû, li gel vê ne tevgereke Kurdistanî
jî bû. Di wê demê de min bi xwe ji bo wan jî nivîsî bû. Min diyar kir ku ji bo
parastina Mahabadê ji artêşa Iraqê pênsed kes bi çekên xwe vê ji mirinê re
amade ne. Wekî din gelek rewşenbîr, karmend û welatparêz hebûn. Ev jî mirovên
ku bi xwîna xwe ve ji bo parastina komarê amade bûn. Lê di bersiva ji bo me
şandin de diyar kirin ku ji me tiştekî naxwazin û gotin "ger hebe ji bo me
pirtûkên dibistanan û bijîjkekî bişînin.'' Heta hinan ji wan gotin ev komar ji
bo ku Kurdên Başur werin destdeynin ser, avanekirine. Yanî digotin "dixwazin
kursiyên me ji me bigrin.''
Dema ez li dadgehê bûm, şahîd hatibû amadekirin ji bo min
diyar kir ku em dixwazin Kurdistana Başûr jî tevlî Mahabadê bikin û dewleteke
serbûxwe ava bikin. Ev şahid, endamê Komîta Navendî yê Partiya Komînîst ê Iraqê
bû.Tişteke ku ez ê qet ji bîr nekim jî got "roja ku artêşa Îranê Tebrîzê dagir
kir, ez li mala Îbrahîm Ehmet bûm.'' Rast digot, wê şevê li mala min bû. Ev kes
endamê cigîr (yedek) ê navendî yê komînîstan bû û di asta hevalê Şex Latîf de
bû.  Wê şevê li mala min jîvana
(randevuya) herduyan hebû. Diyar kir ku roja Tebrîz ketiye ez giriya me û di
nava giryanê de min gotiye ku em çi bêbextin, Komara me ya Mahabadê hîn di dema
keçîniya xwe de ye mir. Di encamê de dadgehê ji bo min û girtiyên din cezayê
dusal girtîgeh û dusal jî çavderiya polîsan da.  
– Ma îtîrafkar, hevkarê Iraq an Îranê bû?
–  Na, li Iraqê li gel
hikumetê mikur hatibû. Weke ku ez Endamê Partiya Komînîst im, dihatim
destgirtin, li ser wî bingehî jî min ceza girt. Dema ez li girtîgehê bûn yên
hatin serdanê gotin li gel partî Partiya Komînîst û partiyên din jî di rewşeke
zehmet de ne û lewaz ketine. Ji ber ku radestbûn û mikurhatinên endamên navenda
komînîst nêvengê (ortamê) serûbin kiribû. Her çi qas rewşa giştî ev be jî bi
rastî jî yên berxwedaniyên mezin nîşan didan jî hebûn. Divê vê jî diyar bikin.
Li girtîgehê li gel me yên din jî hebûn. Bi yên dihatin serdanê re jî me li hev
kir, dema em derketibana derve menê konferansek çêkiriba. Paşê me konferans
çêkir. Di konferansê de li hember endamên komîta navêndî rabûn çêbûn. Di encam
de navendeke nû hate hilbijartin. Xwestin ku ji endamên navendê yên berê hisab
bê pirsîn û ji bo ku li ser bingehê zanistî bernameyek partiyê bê avakirin,
xebat çêbûn.
Ji ber vê Hemza Evdillayê ku heta wê demê sekreteriya
partiyê dikir û li gel wî bi qasî deh-pazdeh kes ji partiyê veqetiyan. Hemza
Evdillah digot "ji ber ku ez vekîlê Mele Mustafa me, endamê esîl im. Di
despêka 1953'yan de navê partiyê yê berê "Partiya Demokratîk a Kurd bû. Me
guhert û kir "Partiya Demokratîk a Kurdistan. Me bi vê re armanc kiribû ku em
him netewperestiya teng derbas bikin û him jî girseyeke berfirehtir bigrin nava
xwe. Wekî din me diyar kir ku me ji Mao û Stalîn sûd wergirtiye, nêrîna me ya
cihanê ramaneke sosyalîzma zanistiye û me têkoşîn kir.
Têkoşîna me weke ya partiyên din ji meş, mîtîng û
belavkirina belavokan pêk dihat. Wê demê di navbera gelek partiyên Iraqê de
eniyên yekîtiyê ava dibû. Lê weke partî em ji enî û yekîtiyan re nedihatin
pejirandin. Dema ku bi çawê partiya Kurdan û partiya Kurdistanî li me mêze
dikin, ji bo ku me bi awayeke cîhawazî didan dest, mêzandina  cûdakariyan ya li vê bereyê- digotin ku ji bo
Iraqê pêwîste hildin nav yêkîneya eniyê. 
Têkiliyên me yên di navbera pirtiya PDK û  partiya Komînistan de jî carna baş dimeşiya,
carna jî xirap didomiya.  Cûdahiya
bingehîn, di mijara ku Kurd biwayeke netew mafê wan heye qedera xwe bixwe diyar
bikin, an jî nekin de bû. Partiya Komînîst jî vê qebûl nedikir.
Di vê demê de
partiya me weke dibistanekê bû. Yên ku dihatin tevlî me dibûn, piştî ku
perwerda xwe didîtin û şûnde dişûn diketin nav Partiya Komînistan.  Lê piştî sala 1953 û şûnde ev rewş hat
guhertin, heta endamên merkeza Partiya Komînîstan dihatin bi awayeke endamên
asayî tevlî nav partiya me dibûn. Xwezayî giraniya Partiya Kurdan  dihat avakirin. Ya din jî heye Tevgera Netewe
ya Ereban jî partiya me weke xeteriyeke mezin didîtin. Ev rewş heya 14 Tirmeha
1958 domand.
Navenda Lêkolînên Stratejîk a Kurdistanê
www.navendalekolin.com www.lekolin.org -www.lekolin.net –
www.lekolin.info
0
21
TR
:" "
:""
" "," "
:" "