21 Nisan 2011 Perşembe Saat 13:08
Endamê Konseya Rêveber a KCKê Rustem Cûdî pêşketinên van demên dawiyên ên li Sûriye û Başûrê Rojavayê Kurdistanê nirxand û got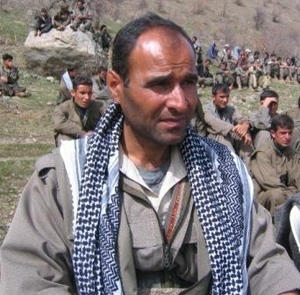 Endamê Konseya Rêveber a KCKê Rustem Cûdî pêşketinên van demên dawiyên ên li Sûriye û Başûrê Rojavayê Kurdistanê nirxand û got Li Sûriye pêvajoya bidestxistina maf û azadiyan dest pê kiriye û hêza rejîmê têrê nake ku rewşê paş de vegerîne. Êdî paşde gav nayê avêtin. Cûdî bal kişand ser yekitiya Kurdan û got "Yekitiya Kurdan ferzek e . Cûdî bal kişand ser mudaxeleyên Tirkiyeyê ya li Sûriyeyê û destnîşan kir ku rejîma Sûriyeyê lewaz dibe , Tirkiye ji xwe ditirse.
Pêla serhildana gel a li Sûriye jî girt nav xwe. Dewlet hewil dide kurdan li derveyî pêvajoya guhertinê bihêle, lê gelê kurd dengê xwe bilind dike. Rewş ber bi ku ve diçe? Daxwazên Kurdên li Rojavayê Kurdistanê çi ne û wê ji niha û pê de çi bikin? Di derbarê rewşa siyasî ya Sûriye û muxalefeta Kurd de Endamê Konseya Rêveber a KCKê Rustem Cûdî bersiv da pirsên ANF'ê.
*Hûn rewşa li Sûriye û ya tevgera Kurdan çawa dibînin?
-Pêla serhildanê ya ku ji bakurê Efrîqa dest pê kir, bi Misrê û welatên kendavê re gihişt astek hîn girîngtir. Em li bendê bûn ku li Sûriye jî pêlek serhildanê ji bo maf û azadiyan ji aliyê hêzên civakî ve pêş bikeve. Jixwe sedemên ku hişt li wan welatan serhildan û raperînên gel pêş bikeve, li Sûriye jî zêde zêde hene. Desthilatdariya totalîter a despot, desthilatiya yek-partî, rewşa awarte ya ku nêzîkî 50 sal in dewam dike, bi darê zorê û bi şêwazên cûda helandina rengên olî û etnîkî yên civakê, înkara li hember gelê Kurd, qedexekirin û ji derve hiştina hêzên siyasî û civakî û hwd… Ev hemû sedem in ku li Sûriye gel rabe ser piyan û ji bo maf û azadiya xwe têkoşînê bilind bike. Sûriye êdî di nav vê pêvajoyê de dijî.
GEL DÎWARÊ TIRSÊ ŞKAND
Gel di nava serhildanê de ye. Başûr û navenda Sûriye, herêmên Kurdan, heta bajarên li ser peravên Derya Spî ku pergalê ew der weke bexçeyê xwe didît jî, êdî di nav pêla serhildanê de ne. Tevgerek giştî ya ku hemû bajarên Sûriye û rengên mezhebî, olî, etnîkî yên civaka Sûriye hildigire nav xwe dest pê kiriye. Ev serhildan gotinên xwe, armancên xwe vekirî û bê tirs tîne ziman. Piştî qanûna rewşa awarte ya nêzîkî 50 sal in dewam dike, ev cara yekemîn e ku gel li Sûriye dîwarê tirsê dişkîne. Cara yekemîn e ku tedbîrên polîsî, êrîşên artêşê, kuştin, tasfiyekirin bandorê li gel nake. Rejîma Sûriye her tim dikarîbû bi van tedbîran muxalefetê bêdeng bike, tasfiye bike, teslîm bigre û ji holê rabike. Lê îro bandora van nemaye. Ev nêzîkbûn, reaksiyona gel û biryardariya raperîn û serhildanê xurtir dike. Li Sûriye pêvajoya bidestxistina maf û azadiyan dest pê kiriye û hêza rejîmê têrê nake ku rewşê paş de vegerîne. Êdî paş de gav nayê avêtin. Lewma em bi hêvî ne, ku ji vê teqîn û dûkela raperina li Sûriye, pergalek demokratîk a ku maf û azadiyan qebûl dike û gelê Kurd jî tê de bi hemû mafên xwe yên bingehîn û azad dijî wê ava bibe.
*Tirkiye çima ji muxalefeta li Sûriye pêş dikeve û têkoşîna demokaratîk a Kurdan nerehet dibe?
-Bê guman Sûriye ne welatek ji wan welatên li derek din ên cîhanê ye. Sûriye di hevsengiya siyasî û stratejîk a herêmê de xwedî bandor e. Sînorên xwe yên dirêj bi Tirkiye re ye. Li bakurê xwe Tirkiye, li rojhilat Iraq, li başûr Ûrdûn, dîsa li başûr-rojava Libnan û Îsraîl hene. Sûriye bi sînorên xwe bi van hêzên siyasî yên li herêmê ve girêdayî ye. Ji bo vê pêşveçûnên siyasî yên li Sûriye çê dibin, em bixwazin nexwazin wê bandora xwe li ser van welatan jî bike. Tirkiye ji bo vê bi gûman e, bi tirs e. Lewma ketiye nava liv û tevgerê û dixwaze van pêşveçûnan kanalîzeyî berjewendiyên xwe bike. Sedema yekemîn ev e.
Tirkiye dizane ku perçeyek Kurdistanê û hejmarek gelê Kurd di nav sinorên Sûriye de ye. Tirkiye heta îro jî di siyaseta înkarkirina hebûna netewekî bi navê Kurd de -ne tenê Kurdên li bakur, yên li hemû devera cîhanê- bi israr e. Ev helwesta giştî ya pergala siyasî ya Tirkiyê ye ne helwesta hikûmetê yan jî partiyek siyasî ye. Çavkaniya xwe ji îdeolojiya fermî digre û komara Tirkiyê li ser wê ava bûye. Îdeolojiyek nîjadperest e, li ser înkarkirina Kurdan hatiye sazkirin. Ji bo vê jî her pêşveçûnek ku bêhna berjewendiyên Kurdan jê bê, ev di asta îhtîmalan de be jî, Tirkiye her tim hewil dide rê li wê pêşveçûnê bigire.
REJÎMA SÛRIYE LEWAZ DIBE, TIRKIYE DITIRSE
Îro li Sûriye raperînên gel pêş dikevin û rejîma totalîter û qedexeker lewaz dibe. Ev rewş derfet dide gelê Kurd ê li Rojavayê Kurdistanê ku êdî maf û azadiya xwe bi dest bixe. Gelê Kurd ê li Rojavayê Kurdistanê bêhtîrî 30 salan e bi bandora têkoşîna tevgera azadiya gelê Kurd xwe birêxistin dike, mezin dike, xeta xwe ya têkoşînê ji hêza maddî û manewî ya vê tevgerê digire. Herkes dizane ku serokatiya me demek dirêj li wê qadê bi cîh bibû û gel ji serokatiya me pir zêde bi bandor bû. Li ser vî esasî bê dudilî bi hezaran keç û xortên Kurd beşdarî nav qadên têkoşînê bûn. Bi hezaran jî gihîştin merteba şahadetê. Ev tev di navbera tevgera azadiyê -ku pêşengiya wê PKK dike- û gelê Rojavayê Kurdistanê de têkiliyên organîk ava kir. Ev têkilî ji bo Tirkiyê metirsiyê çê dike. Ji ber wê Tirkiye dixwaze dest li vê rewşê werde.
Xala din, Tirkiye li herêmê lingekî sereke yê Projeya Rojhilata Navîn a Mezin e. Emerîka ev proje li dijî herêmê û bi armanca lîberalîzekirina herêmê pêş xistiye. Ev proje pala dide nirxên takekesî û nirxên sermayedarî ya giştî. Armanca raperîna gelan a li alema Ereban û Sûriye pêş ketiye, demokrasiyek rastîn e. Emerîka û hevalbendên wê yên herêmî, bi taybetî Tirkiye, demokrasiyek rastîn a li gorî berjewendiyên gelan naxwazin. Armanca wan a sereke, pêşxistina projeyên xwe û mîsogerkirina berjewendiyên xwe yên di herêmê de ye. Armanca liv û tevgera Tirkiye ew e ku pêvajo ji bin kontrola hêzên kapîtalîst dernekeve û eger guhertinek jî çêbibe, berjewendiyên DYE û Yekitiya Ewrûpa yên di herêmê de nekevin xetereyan. Tirkiye ji ber vê dixwaze têkilêyên xwe hem bi rejîmê re hem jî bi muxalefetê re xurt bike. Tirkiye li gorî xwe têkiliyên xurt bi muxalefeta li Sûriye re, bi taybetî jî bi ya ku xwe weke îslama siyasî ya nerm bi nav dike re pêş dixe. Armanca van têkiliyên du alî ew e, ku têkoşîna demokrasiya rastîn bi ser nekeve û eger guhertinek jî çê bibe bila di bin kontrola vê desthilatiyê de pêk bê.
TIRKIYE JI LEWAZIYA EREBAN SÛD WERDIGIRE
Xalek din, armanca hegemonîk a Tirkiye ye. Tirk dixwazin di herêmê de hegemonyaya xwe bi cih bikin. Niha rejîma Erebî bi giştî lewaz ketiye û Îran jî weke hêzeke herêmî di bin ambargo û çembera navnetewî de ye, pirsgirêkan bi pergala navnetewî re dijî. Ev lewazî hiştiye ku Tirkiye bi riya Akp û Erdogan temah bibe, îdîaya wê çê bibe û xwe wekî hêza sereke ya herêmê bibîne. Dixwaze bi navekî nû bandora Osmanî li ser herêmê vegerîne. Di vir de ji lewazî û perçebûna pergala siyasî ya Erebî sûdê werdigire.
Dema li herêmê tevgera demokratîk pêş dikeve gel bi hêvî dibe ku rejîmên bê alozî, pergalek demokratîk derkeve holê û hebûna van welatan bi rengekî bernamekirî-pîlankirî bixe xizmeta berjewendiyên gelan. Eger ev pêk bê, valatiya ku di pergala Erebî de heye bi pergala demokratîk tê dagirtin pê re jî derfeta dewletên weke Tirkiye namîne ku di nava pergala Erebî de cîh bibînin û bi navekî din hegemonyaya xwe nû bikin. Lewma metirsiyên Tirkiyê pir alî ne ji bo ku pêvajoya heyî bi demokratîkbûna herêmê bi encam nebe, di bin kontrola wê de pêş bikeve û vê jî kanalîzeyî armanc û berjewendiyên xwe bike ketiye nava li û tevgerek cidî.
YEKITIYA KURDAN ÇEKA HERÎ GIRÎNG E
*Li Rojava yekîtiyeke kurdan ava nebûye. Ev metirsiyek çawa bi xwe re tîne? Ji bo yekîtiyek çêbe hewildanên we çi ne?
-Di her minasebetekê de, bi taybet jî di kongreyên tevgera xwe de me yekitiya Kurdan weke erka sereke esas girtiye. Li ser vê me înîsiyatîf pêş xistine, hewildanên me yên berfireh çêbûne. Li her çar perçeyên Kurdistanê, li derveyî welat ji bo hemû tevger û rêxistinên Kurdan -biçûk û mezin- bên gel hev û di nava formûlasyoneke yekitiya netewî ya demokratîk de û bi baybet jî di çerçeva konferansek netewî ya demokratîk de bi cih bibin, me pêwendî bi hemû hêz û rêxistinên Kurdan re çekiriye. Lê mixabin, heta niha di warê fîîlî de ji bo avakirina yekitiya Kurdan ji bilî gotinên erênî me ji hinek hêzan ti gav avêtinek nebihistiye.
Yekitiya Kurdan îro ferzek e. Ji bo ku mirov karibe diristbûn û xebata her partî û rêxistinek Kurdî di aliyê baş an xerab de binirxîne, pêwîst e bê zanîn ka ew partî-rêxistin di çi astê de xizmeta yekitiya netewî ya demokratîk dike? Yan jî çiqasî yekitiyê perçe bike, li dijî yekitiyê bixebite, li hember yekitiya Kurd xemsar be ewqasî bê wate ye û li pêşiya armanc û daxwazên Kurdan asteng e. Lewma çareserkirina pirsgirêka yekitiya Kurdan îro ferz e. Ji bo azadiya Kurdan, ji bo parastina qezencên Kurdan ku îro weke encamên têkoşînê kom bûne ser hev, yekitiya kurdan çekek herî girîng e.
Em yekitiya netewî û demokratîk a kurdan, tenê û tenê di çerçoveya hatina cem hev a hinek rêxistinên Kurdan de nanirxînin. Yekîtî, yekitiya gel e. Ev, bê gûman rêxistinan jî di nav xwe de di cîvîne. Lê, hêzên civakî jin, mêr, ciwan, kedkar, memûr, esnaf û hemû rengên civaka Kurdî dema bên gel hev, li ser projeyek azadiyê, bi çerçoveyek netewî, ji bo armancên hevpar kom bibin, ew yekîtiya rastîn e. Em ji bo vê yekitiyê têkoşînê dikin û me ti carî aliyek ê ku taybetmendiyên wê yên netewî hebin- ji derve nehiştiye.
DIVÊ ÊDÎ MUXALÎFÊN KLASÎK BAWERIYÊ BIDIN GEL
Raperîna gel a li Rojavayê Kurdistanê û bi giştî li Sûriye dest pê kiriye, berî her tiştî sînor û armanc û hêza muxalefeta klasîk derbas kiriye. Ew nikare vê hêza ku îro rabûye serhildanê hêmbêz bike. Ne ew bernama wê heye, ne jî hêza wê ya rêxistinî heye. Mixabin ev muxalefeta klasîk, bawerî nedaye gel ku karibe nûnertiya daxwazên gel bike û destkeftiyên wê biparêze. Muxalefeteke ewqas lewaz e, ku her demê amade ye tawîzan bide û bi rejîmê re an jî bi hêzên din re bikeve nava lihevhatina bê prensîb. Lewma pêwîst e, ev muxalefet berî her tiştî baweriyê bide gel ku ewê karibe nûnertiya daxwazên gel bike û destkeftên gel biparêze, di her platformê û di her qadê de bi rastî nûnertiya hêviyên gel bike bê dudilî, bê tawîzdayîn, bi rengê xwedî prensîb parazvaniya daxwazî û armancên gel bike.
PYD NÛNERÊ XETA AZADIYÊ YE
Xalek din a giring jî ew e Rast e, li Rojava behsa 12 tevgerên Kurd tê kirin. Dibe ku zêdetir an jî kêmtir bin. Lê mirov ji van 12 rêxistinên Kurd bipirse: Ewqas hejmarek mezin a rêxistinên Kurdan gelo bi rengekî objektîf bi rastî nûnertiya rengîniya civaka Kurdên li Rojavayê Kurdistanê dikin, yan jî perçebûnên çêkirî ne û nûnertiya rengê civakê nakin? Ya rastî, ti bingeh û sedemên siyasî û îdeolojîk ên wan perçebûn û rêxistinan nînin. Bêhtirî xwe êdî nikarîbûn xebatê, têkoşînê ji astekê derbasî asteke mezintir bikin, lewma jî ewqas perçebûn çêbû. Ev perçebûn bê gûman pir encamên xerab bi xwe re anîne. Bandorek pir xerab li ser hêviyên gel kiriye. Fersend daye hêzên îstîxbaratî yên dewletê, ku bi hêsanî dest li nav civaka Kurd werdin. Ev perçebûn, lî dijî hev rabûn, yekitî çênekirin û ev dijberiya bê wate, bû sedem ku her tim sirrên tevgera Kurd eşkere bibe û ev tevger her tim ji derbeyên hêzên îstîxbaratî re vekirî be.
Dema ku em behsa PYDê dikin, giring e em di vir de jî zelal bin. "12 rêxistinên Kurdan li Rojava hene û PYD jî yek ji wan e, hemû dibin 13 Ev tespîtek çewt e! PYD ne partiyek 13. e tiştekî cuda ye. PYD nûnerê têkoşîna 30 salan a tevgera azadiya Kurdistanê ye. PYD xeta azadiyê ye. Xeta çareseriya demokratîk a pirsgirêka Kurd temsîl dike. PYD encama têkoşîna PKKê ye, ku bêhtirî 30 salî ye di Rojavayê Kurdistanê de ye. Ji ber vê PYD îro li ser mîratek mezin a têkoşîna azadiyê, li ser xwîna bêhtirî 3 hezar şehîdan, ew keç û xortên ku ji nav gulên wê civakê hatine û di nava refên PKKê de xwîna xwe ji bo azadiya hemû Kurdistanê dane hatiye avakirin. Li ser keda mezin a ku serokatiya me bê navber, di dirêjahiya 20 salan de meşandiye mezin bûye. Pala xwe dide têkoşîn, bîranîn û xebata bi hezaran hevalên ku di wê qadê de xebatên siyasî, rêxistinî dane meşandin. Lewma PYD nûnertiya têkoşîna bi dehan salan dike û ev têkoşîn bi berdêl û bihayên pir mezin hatiye meşandin.
TÊKILÎ Û YEKITÎ BÊ PRENSÎP NABE
PYD, ne partiyek siyasî ya teng e. Civaka Kurd a ku bi perspektîfên azadiyê û demokrasiyê xwe rêxistin dike, bi yekitiya hemû Kurdistan û hemû gelê Kurd bawer e, îdelojî û perspektîfên Rêber APO ji bo xwe şewq û ronahî dibîne, xeta şehîdan û rêya ku şehîdan vekiriye dişopîne, nûneriya wê civakê dike. PYD civaka azadixwaz a ku bi nirxên azadiyê mezin bûye temsîl dike. Ji bo vê jî dema ku PYD li ser komkirina hemû hêzên biçûk û mezin ên Kurdî -yên ku taybetmendiyên wan ên netewî û demokratîk hebin- re mijûl dibe, têkiliyan pêş dixe û hewil dide wan li ser xalên hevpar bîne cem hev, girîng e ti carî vê erka xwe ya sereke ji bîr neke. Hewildanên xwe divê di çerçova komkirin û birêxistina berhemên têkoşîna bê navber a tevgera azadiyê be.
PKK CEWHERÊ TEVGERA KURDÊN ROJAVA YE
*Çavkanî û armanca îdîayên weke "PKK dest bavêje Rojava û muxalefeta kurd xurtir bike, wê Tirkiye mudaxeleya rewşê bike çi ne?
-Têkoşîna Azadiya Kurd di 30 salên dawî de li Rojava, bi bandora PKKê pêş dikeve. Piştî îttîfaqa ku 1998'an li Edenê di navbera Sûriye û Tirkiye de hat îmzekirin, dewleta Sûriye û hêzên îstîxbarata dewletê, tevgera azadiyê ya ku aligiriya PKKê li Rojavayê Kurdistan dike ji xwe re kiriye hedefa sereke. Bi zext, lêdan, zindan, di bin êşkencê de kuştin, şehîdkirinan dewlet bi ser vê tevgerê de tê. Ev rastî ne.
Herkes dizane ku di serhildana gelê kurd a 12ê Adara 2004'an li Qamişlo, Dêrik, Amûdê, Efrîn Kobanî, li Şamê û her dera ku kurd lê dijîn de pêş ket, hêza sereke û pêşeng tevgera azadiyê bû. Têkiliya PKKê ya bi rojava re weke têkiliya bi beşekî Kurdistanê re nîne. Dema PKK li rojava dest bi xebatê kir, atmosfera bêhevîtiyê serdest bû. PKK bi taybetmendiya xwe ya şoreşgerî û mîlîtanên wê jî bi pîvanên xwe yên exlaqî, bi hêza xwe ya bandokirinê ew atmosfera bêhêvîtiyê belav kir û li şûna wê hêviyek mezin ava kir.
Lewma PKK cewherê tevgera Kurdên li Rojavayê Kurdistanê ye. Li Rojavayê Kurdistanê hêvî, tevger û rêxistina ku heye bi PKK'ê çêbûye. Ji ber vê PKK ne partiya yek perçeyê Kurdistanê ye,bê nîqaş û dudilî partiyek Kurdistanî ye. Bi her boneyekê, her demê PKK'ê ev yek îspat kiriye. Ji her çar perçên Kurdistanê û ji her cihê ku Kurd lê dijîn, endamên PKK'ê hene. Kurdên li Asya Navîn, Rûsya, Qafqasya, Ewropa û her çar perçeyên Kurdistanê di nava PKK'ê de hene.
EV DER NE BAXÇE YE, KENGÎ BIXWAZE MUDAXELE BIKE
Tiştekî bi navê mudaxeleya PKKê nîne. PKK wê ji ku mudaxeleya ku bike? Bixwe cewherê tevgera rojava ye. Dibêjin ku "dema PKK mudaxela Sûriye bike wê bibe sebeb ku Tirkiye mudaxele bike. Ev gotinên hinek hêzên Kurd ên lewaz in ku nikarin bi hêz û îmkanên xwe têkoşînê bikin. tiştekî ku karibin bidin gel nîne. Lê dixwazin li ser keda PKK'ê ya heyî bijîn. bi vê gotinê gel tehdît dikin. Dixwazin tirsekê li ser gel çêkin. Bi dizî yan jî eşkere, bi van gotinan xwedêgiravî dixwazin bêjin ku eger eşkere bibe PKK di vê tevgerê de xwedî bandor e, wê destkeftinên Kurdan ji dest biçin! Tiştek wisa nîne. Bi vê dixwazin manewiyata gel bişkînin. Ev der ne baxçeyê Tirkiyê ye ku kengî bixwaze mudaxele bike! Dema mudexele bike, wê li hember xwe berxwedanê bibine. Divê her kes bizanê wê li Rojavayê Kurdistanê tu kes weke berxê qurbanê serê xwe li hember Tirkiyê netewîne. Ya din jî wê Tirkiyê mudexeleya ku bike? Li Bakurê Kurdistanê serhildana gelê Kurd bi perspektîfa serkeftinê dest pê kiriye. Serhildana gelê Kurd li ser bingehê bidestxistina maf û azadiyan pêşketiye. Tirkiye ne di wê hêzê de ye ku li Bakurê Kurdistanê têkoşîna gelê kurd tasfiye bike, wê çawa karibe li Rojavayê Kurdistanê rê li ber serhildana gel bigre û van serhildanan tasfiye bike? Ev hemû îdîayên çewt in ku em di lîteratûra siyasî ya Erebî de jê re dibêjin "El Tabur El Xamis (tabura pêncemîn). Gelê me divê li hember kesên ku van lîstok û propogandayên erzan û çewt belav dikin hişyar be û xwedî helwest be.
TEKOŞÎNA KURDAN JI BO XWESERIYA DEMOKRATÎK E
*Mafê hemwelatî û nasname dayîna kurdan hûn çawa dibînin? Gelo ev yek ji bo daxwazên kurdan dikare bibe bersiv? Ji niha şûnde wê helwesta gelê kurd çawa pêş bikeve?
-Beriya her tiştî kurd li Rojavayê Kurdistanê gel e, li ser erdnîgariya xwe dijîn, li wir hatine dinê û nesil bi nesil jiyana xwe domandine. Lê mixabin, ji sala 1963'an û vir de bi siyaseta înkar, asîmîlasyon û tunekirinê ya Partiya Baasê ve rû bi rû dimîne. Bi rengekî pir şovenî û derveyî mirovahî, ji sala 1962'an de hikumeta nijadperest a Sûriye gelek Kurd bê nasname hişt û weke biyaniyan ew nîşan dan. Ev siyaset bi temamî înkara Kurdan bû. Sûriye digot ku Kurd li vir nîne, yê hene jî biyanî ne û ji welatên cîran hatine, ne hemwelatiyên Sûriye ne. Ev zagon tiştekî pir xerab bû. Bi hatina hikumeta Baas re Kurd rastî du zextên mezin hatin. Yekem, li sertaserê Sûriye rewşa ewarte hate îlan kirin. Lê mixabin ev rewşa awarte li herêmên ku kurd dijîn du qat dihate meşadin. Ji bilî vê herêm bi zagonên taybet dihate birêvebirin. Yek ji van zagonan biyanîkirin, asîmîlasyon û bêparkirina Kurdan ji mafê jiyanê bû. Zagona "Kembera Erebî ji bo valakirina herêmên Kurdistanê ji Kurdan û bicihkirina Ereban bû. Zagonên qedexekirina reng, çand, rêxistin û zimanê Kurdî derxistin. Ev zagon hîn jî hene. Ji bo vê pirsgirêka kurd bi dayîna 300 hezar nasnemeyan nayê çareserkirin. Kurd îro tekoşînekê ji bo Xweseriya Demokratîk didin meşandin. Di nav sînorên Sûriyeke demokratîk de, Kurd dixwazin bi rengê xwe yê siyasî, çandî, aborî, rêxistinî û perwerdehî, bi nasnemeya xwe ya netewî bijîn. Bê ku em sînorên Sûriyê biguherin, divê Kurd bi nasnameya xwe ya siyasî, çandî, civakî û netewî bijîn û xweseriya xwe îlan bikin.
NIKARIN KURDAN BIXAPÎNIN
Ji bo vê pêwîst e pêvejo çawa bê nirxandin? Divê em ji bir nekin, dewleta Sûriye demekê ji bo di herêmê de bi giştî di nava hewsengiyekê de bijî pêwîstiya wê bi Kurdan hebû. Ji ber vê nerm nêzîkî Kurdan bû. Lê mixabin ev nermbûn, nebû diyardeyek a qebûlkirina mafên rewa yên gelê Kurd. Lê dema ku dewletên herêmê li dijî Kurdan ketin nava hewildanê, Sûriyê jî bi Tirkiye û Îranê re ket nav peymanek stratejîk a înkara Kurdan û her roj zexta li ser Kurdan zêde kir. Di 12 Adara 2004'an de, dema serhildana gelê Kurd li Qamişlo çêbû, rêjîma Sûriyê kete nava tengasiyê û serokê Sûriyê Beşar Esad diyar kir ku Kurd beşek ji tevna civaka Sûriyê ne. Hebûna kurdan qebûl kir. Lê piştî serhildan rawestiya, tu gaveke pratîk ji aliyê Sûriye ve nehat avêtin. Ji bo vê divê gelê Kurd bizanibe dema serhildanên gel dest pê dike û dewlet dikeve nava tengasiyê, weke ku wê gava bavêje û reforman bike xwe nîşan dide. Lê eger ev waad bi zagonan û destura bingehîn misoger nebin, wê kurd jê bawer neke. Van welatan hîn karekterên antî demokratîk derbas nekirine, dikarin her demê gotinên xwe înkar bikin û xwedî lê dernekevin.
'Bİ DAYÎNA NASNEMEYA SÛRİYÊ, NASNAMEYA NETEWÎ YA KURD Jİ HOLÊ RADİKİN'
Pêwîst e raperînên gel heyanî bigihên tevayî mafên xwe yên rewa bê rawestan berdewam bikin. Ne ku heyanî nasnameyên xwe bigrin. Li gor min dema nasnemeya hemwelatiya Sûriyê didin, bi xwe re nasnemeya netewî ya Kurd ji holê radikin. Kurd tekoşîna xwe ji bo girtina nasnemeya netewî ya Kurd dikin, ne ji bo nasnameya Erebî. Ji bo nasnameya Kurdî azad bikin têdikoşin, ne ya Ereb. Di vê mijarê de ger dewleta Sûriyê di çareserkirina pirsgirêka Kurd a demokratîk de cidî be, tevgera azadiyê jî li ser esasê di welatekî demokratîk de jiyana hevpar qebûl dike û gavên demokratîkkirina Sûriye destek dike. Lê ger berovajî vê yekê dewleta Sûriyê nêzîkî Kurdan bibe, gelê Kurd wê bi hemû şêwazî raperînên xwe berdewam bike û ji bo parastina nasnameya xwe wê hemû rêbaz rewa bin.
*Rêveberiya Sûriyê piştî destpêkirina raperînan, daxwaza hevdîtinan bi rêxistinên Kurd re kir. Mînak nûnerê Sûriye Hîkmet Beşar hat Başûrê Kurdistanê û hevdîtin bi PDK're kir. Sûriye di vê demê de çima hemleyek wiha kir?
-Ji bo çareserkirina pirsgirêka Kurd liv û tevgera çûn û hatina nûnerên Sûriye û hevdîtinên wan ên bi Başûrê Kurdistanê re, hevdîtina hinek hêzên Kurd ên bi hikumeta Tirkiye re ne tiştekî prensîbî ne. Ji ber pirsgirêka Kurd pirsgirêkeke kevin e di herêmê de. Ev rêjîm jî ne rêjîmên nû ne, hemû kevin in. Rêjîma Sûriyê ev 41 sal in desthilatdariya xwe bi awayekî mutlaq berdewam dike. Dikarîbû hemû tişt bikirina. Lê ji bo çareseriya pirsgirêka kurd ti gav neavêt.
Sûriyê, ji bo ku di vê pêvajoyê de gelê Kurd li derveyî pêlên raperînên gel bihêle hewil dide. Raperînên gel li bajarên Der'a, Lazqiye, Şam, Hema, Humus û Helebê hene. Tirsa rêjîmê ew e ku Kurd jî beşdarî van raperînan bibin. Hevdîtinan bi hêzên Kurd ên derveyî Rojavayê Kurdistanê re dike û li hundur bi kesayetên di civaka kurdên Rojava de tên naskirin, bi serokê eşîran re rûdinê. Armanca hevdîtinan ew e ku Kurdan derveyî pêvajoyê bihêlin. Ev ne rast e, Kurd xwedî hêzin û birêxistin in. Bi taybet di warê têkoşîna azadî û demokrasiyê de Kurd xemsar namînin. Tekoşîna azadiyê di Sûriyê de, beriya her kesî Kurdan eleqedar dike. Ji ber ku Kurd di vê qada tekoşînê de pêşeng in.
Tiştekî din a xeter heye. Dixwazin Kurdan bi hinek soz û waadên ku tu garantiya wan nîne bidin razandin. Bi van soz û waadan dixwazin kurdan bê tevger bikin û ji guhertina herêmê dîsa bêpar bihêlin, derveyî guhertinan bihêlin. Ji ber vê pêwîst e helwesta Başûrê Kurdistanê her tim alîgirê bilindkirina raperîna gelê Kurd li Rojavayê Kurdistanê de be. Ne alîgîrê hikumet û desthilatê be. Divê ku bi hemû hêza xwe piştgiriya têkoşîna demokrasi û azadiya gelê kurd ên li perçeyên din bike û em hêvîdar in li hember pîlanên lewazkirina destê kurdan derkeve, tê de cih negire.
*Çima dewletên cîran, bi taybet Îran bi rêya Talabanî xwest ku reaksiyona Kurdan bişkîne. Armanc di vê de çiye?
-Îran di rewşeke aloz de dijî. Lê aloziya wê ne wek a Sûriyê ye. Tevahî rêjîm û pergalên Rojhilata Navîn di nava aloziyê de ne. Ji ber li Rojhilata Navîn pergalan meşrûbûna xwe winda kirine. Ji ber vê ev rêjîm di warê siyasî de hem ji alî gelan ve nayên qebûlkirin hem jî ji alî hêzên navnetewî ve nayên xwestin. Lê dema em hêza siyasî, leşkerî û bi taybet aborî ya Îranê û Sûriyê didin ber hev, em dibînin ku Îran ji Sûriyê xurtir e, lê aloziyan dijî. Ambargoya li ser Îranê dikare bi xwe re aloziyên siyasî jî bîne. Muxalefeta li îranê jî car caran serê xwe derdixe.
Îran her tim di tekoşîna xwe ya li hember DYE, Ewropa û Îsraîlê de hîmên xwe yên herêmî û mezhebî bi kar aniye. Di vê çarçoveyê de peymana di navbêra İran û Sûriyê de, ji bo Îranê gelek girîng e. Her tim Sûriye hevkarê yekemîn ê Îranê ye û Îranê her tim di ser Sûriye re têkiliyên xwe li gel Hemas û Hizbullah daniye, destek daye wan û pê nefes sitandiye. Lewma Îran ji bo berjewendiyên herêmî girîng e Sûriye neyê guhertin û wek xwe bimîne. Hewil dide muxalefetê û di serî de kurdan bêdeng bike. Li ser vê esasî İran di nava seferberiya rizgarkirina rejîma Sûriye de ye. Ji ber ku bi hilweşîna Sûriye wê Îran hevkarekî xwe yê stratejîk winda bike.
SÛRIYE DIKARE XWE JI KARESATAN RIZGAR BIKE
Rêberê Gelê Kurd Abdûllah Ocalan dibêje bila kurd mudaxilê rewşa li Sûriye bibin û her wiha diyar dike ku ger rêveberiya Sûriye maf û daxwazên demokratîk ên Kurdan bipejirîne, ew ê piştgirî bidin wan. Hûn van gotinan çawa dinirxînin?
*Rêbertiya me her dem li gel çareseriya navxweyî ye. Dixwaze pirsgirêkên sereke yên li herêmê -bi taybet jî pirsgirêkên etnîkî û civakî- li ser esasê demokrasiyê bi gelên herêmê re bên çareserkirin. Tevger û rêberitiya me tu carî xilasî-rizgarî di mudaxeleya hêzên derve de nedîtiye, bi taybetî jî di mudaxeleya Emerîka de. Rêber APO ji her kesî bêhtir û zûtir fêm kir ku hatina emperyalîzm a herêmê, ne ji bo azadî, demokrasî û çareserkirina pirsgirêkan e, ji bo lîberalîzekirin û ji nû ve bicihkirina hegemonya kapîtalîst a li ser herêmê ye. Ji bo vê berjewendiyên gelan di mudaxeleyên derve de nîne. Dema em li bûyerên Afganistanê, İraqê û welatên Ereban ên piştî mudaxeleya Emerîka dinêrin, tespîtên serokatiya me her roj rast derdikevin. Derdê Emerîka yê li herêmê ne demokrasî û azadî ye. Sûriye welatek girîng e. Bi gavên demokratîk ên bêtirs, bê dudilî Sûriye dikare xwe ji felaketên mezin xelas bike. Ger gavên pêwîst zû navêje, teqîna civakê û bûyer ji qontirolê derkevin, rewşa Sûriye wê deh qatan ji ya Iraqê xeraptir bibe. Ji ber vê rejîma Sûriye bê xapandin û hîleyan, pêwîst e gavên stratejîk, cidî û bi prensîb bavêje. Ne bi gotin bi rastî rakirina rewşa awarte ne tenê ji bo hilbijartin û serbestkirina hinek rêxistinan, bi giştî qebûlkirina demokrasiyê wek sîstemekî nirxan, biçûk-mezin bê ferq û cudatî qebûlkirina hemû rengên etnîkî, mezhebî, olî yên civakê… Ew tişt bên qebûlkirin, bê guman tevgera azadiya kurd ji bo gavên demokratîk ên rastîn werin avêtin wê pê re alîkar be. Ev nebe, tevgera kurd jî wê têkoşîna xwe ya azadiyê bilind bike.
BILA KURD XWE JI REWŞA AWERTE RE AMADE BIKIN
Îro li Rojava karê sereke yê tevgera kurd xurtkirina rêxistina hemû civaka kurd e. Divê ti kes ji derveyî rêxistinê neyê hiştin. Kesên ku di ber vê têkoşînê de bedêl dane têkilî bi wan re çêbibin, kêmasiyên li hember wan bûne bên telafîkirin, bi lez were derbaskirin û ew hêz manewî-madî tevlî vê tevgerê bibe. Ew, hêza şehîdan e. Lewma divê tevgera kurd nêzîkbûnên bêrêz û bêberpirsyar ên li hember nirxan mehkûm bike, xema nirxên têkoşînê bixwi.
Konên çareseriyê divê bibin cihê avakirina komîteyên rêxistinî, aborî û parastinê. Tevgera kurd divê ji her demê bêhtir bi hemû komîteyên xwe ve li hember rewşek awarte ya li herêmê rû bide şiyar û amade be. Em niha di rewşek wisa de ne. Em nikarin bi çend sozên ku bi zorê em ji devê rayedaran derdixin xwe sînordar nekin. Ya girîng, guhertina radîkal a rejîmê ye. Endamên îstîxbaratê yên ku destê xwe xistine xwîna gel, rayedarên ku zilm û zordarî kirine divê di dadgehên adil de werin darizandin. Derveyî pêşxistina gavên mayînde Tevgera Kurd bi tiştên din razî nabe.
Tespît û perspektîfên rêber Apo yên derbarê demokratîkkirina Sûriye û xweseriya demokratîk a Kurdan ji bo me şewq û ronahî ye. Di çerçoveyek demokratîk de lihevhatineke civakî ya demokratîk pêş bikeve û bi prensîb be, em jê re jî her dem amade ne.
Dîlan Şeval- Ahmed Çîmen
Navenda Lêkolînên Stratejîk a Kurdistanê
www.navendalekolin.com www.lekolin.org -www.lekolin.net – www.lekolin.info